Office Furniture Singapore

– Your Trusted Office Furniture Supplier in Singapore
Office furniture Singapore – Your office space is more than just a workplace; it reflects your company's identity and is a hub for productivity. To create a workspace that embodies both style and functionality, you need a trusted partner – and that's where we come in. Welcome to OFC Furniture, the premier office furniture supplier in Singapore!
OFC Furniture provides quality one-stop solutions for office furnishing. We offer a diverse range of work stations, office seating, storage solution, and designer furniture that can turn your office into the most conducive working space for you. Customised to your needs, OFC Furniture is the spark for organization, productivity and innovation.
office furniture plays a vital role in creating a productive and comfortable work environment. As we move into 2023 and 2024, the office furniture industry is evolving to meet the changing needs of businesses. At OFC, we are here to help you make the right choices and provide customized solutions that align with the latest trends. With a track record of serving numerous customers in Singapore and a commitment to quality, we are the preferred office furniture supplier for businesses like yours. Elevate your workspace with OFC and experience the difference in office furniture today. Contact us to discuss your specific needs and get started on transforming your office space.
Mix & Match Office Workstation
How to Choose

Office Furniture

?

Furniture Layout Plan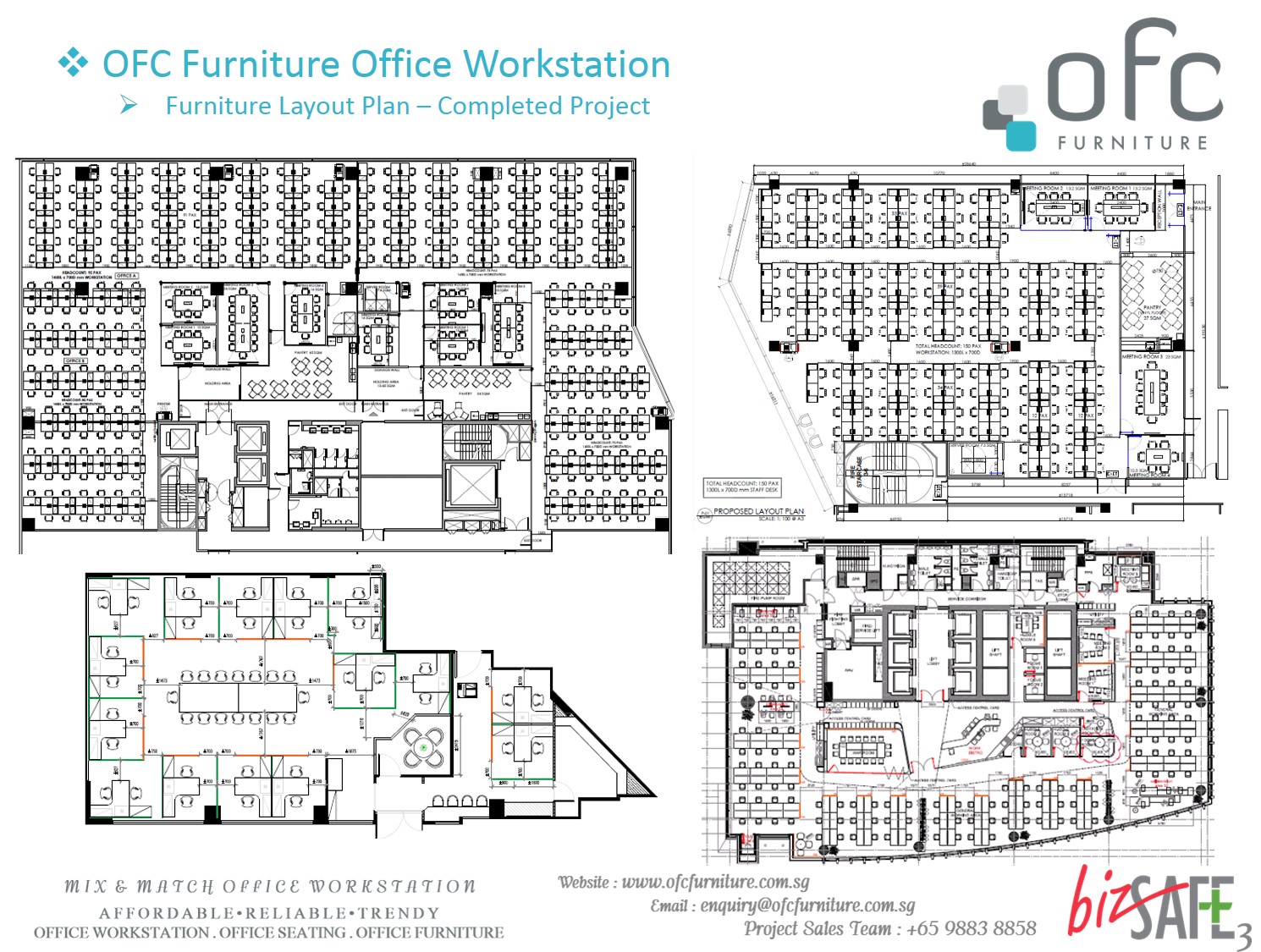 Choose Your Preferred Design Workstation & Legs Structure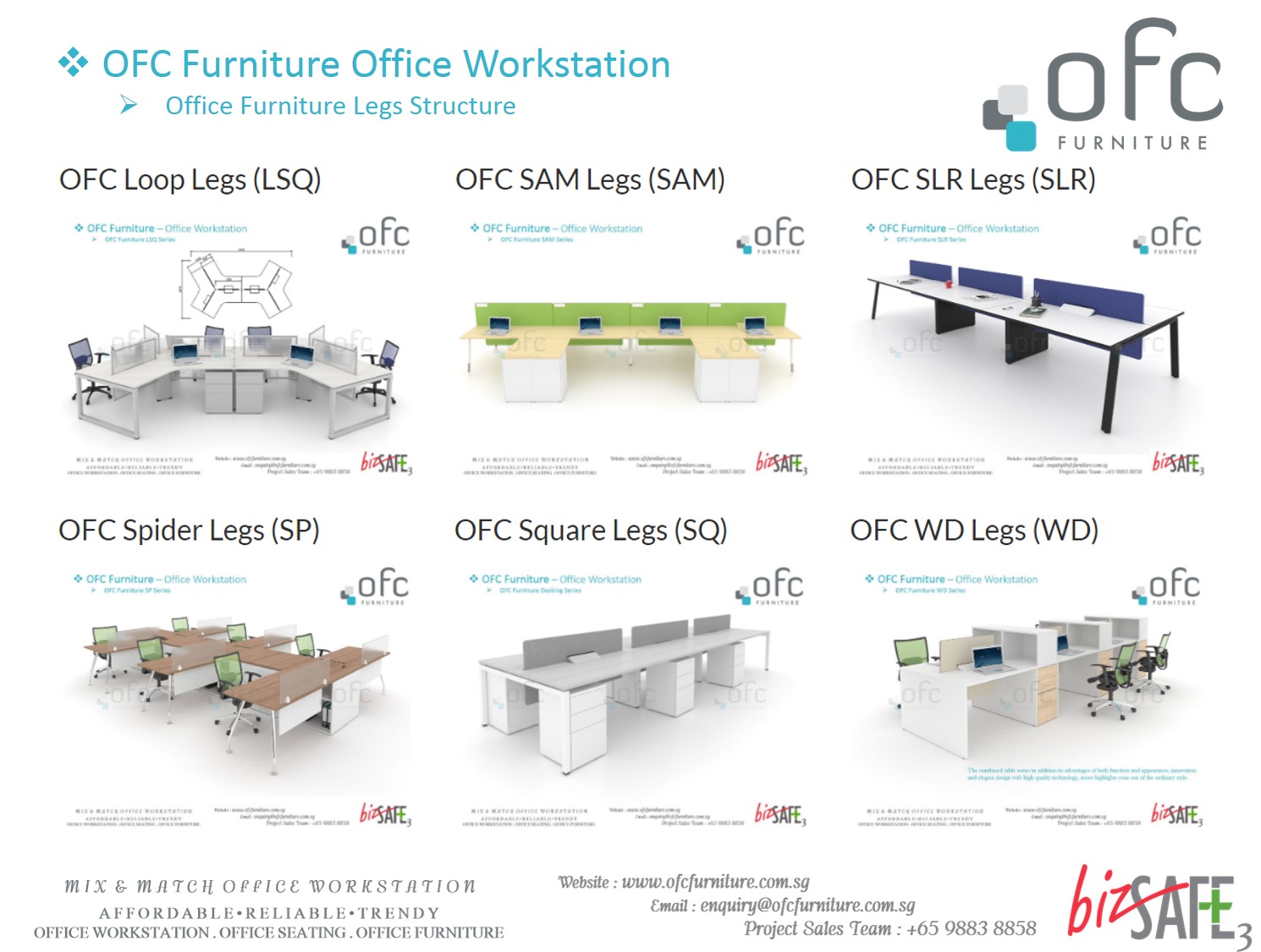 Decide on the Color Finishes For Work Top, Cabinet, Legs Structure and Fabric Panel (if any)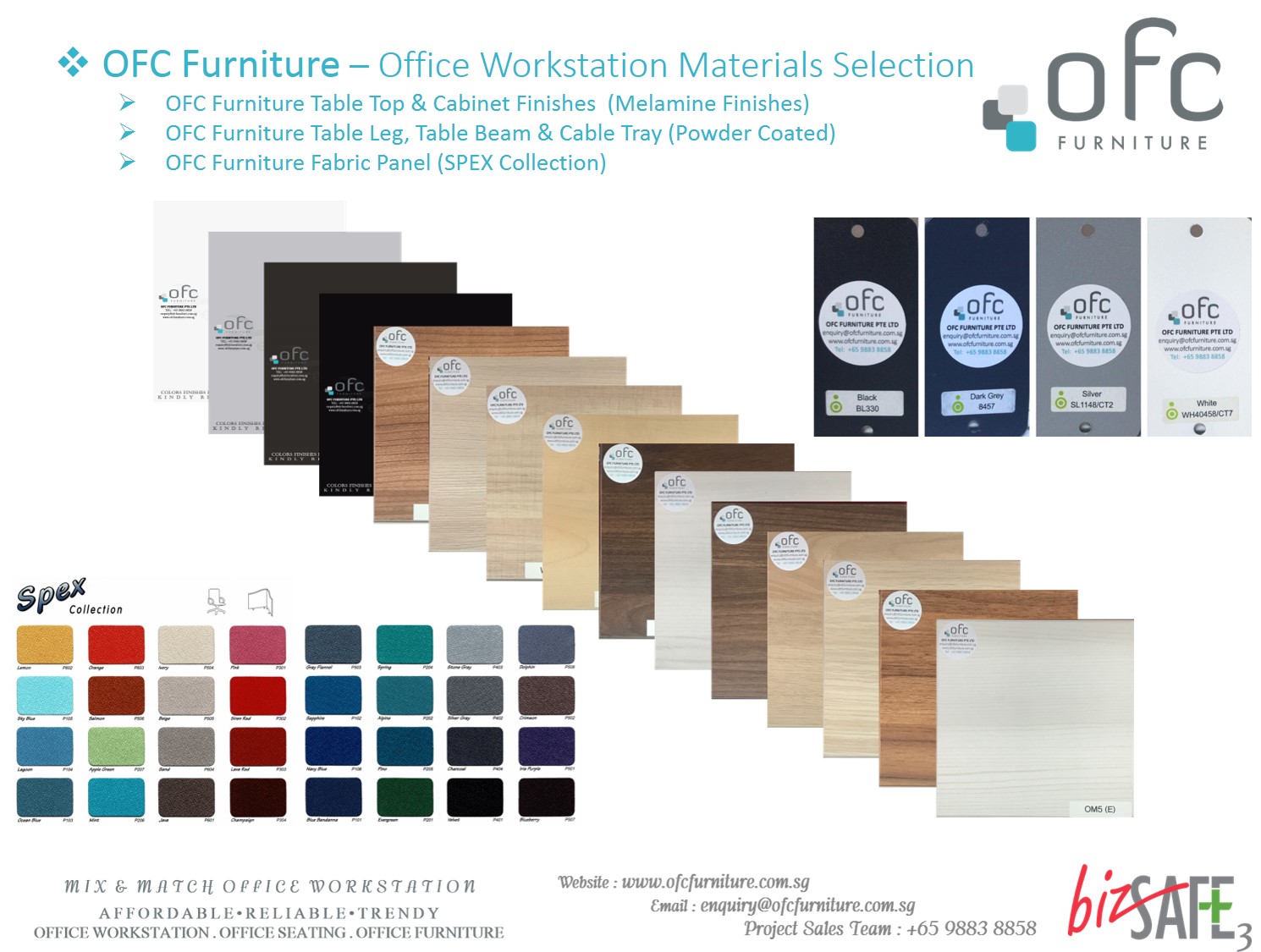 Include Other Office Furniture & Start Installation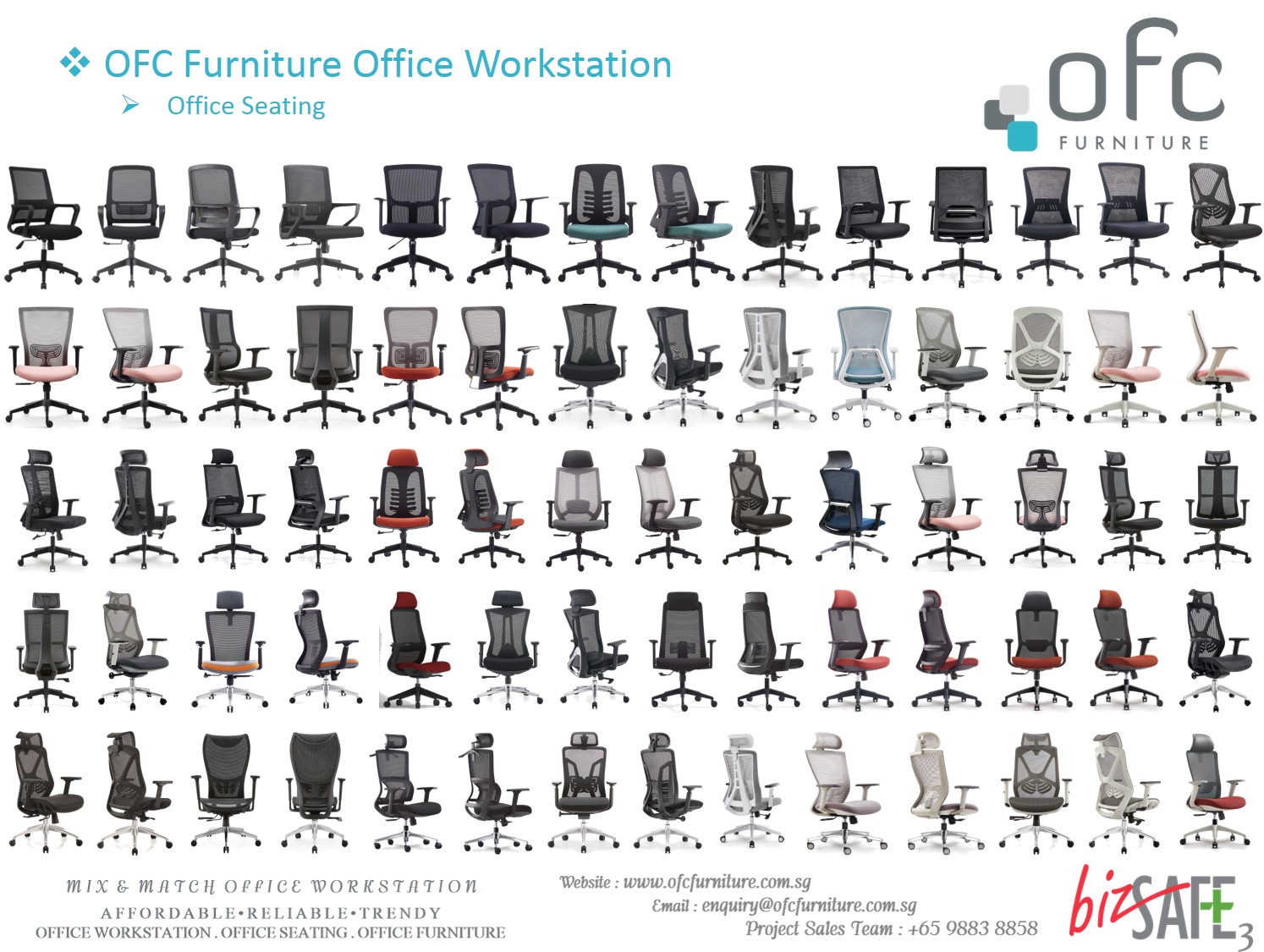 What Makes Our Office Furniture Unique In Singapore?
Besides our furniture for office Singapore being fairly priced, we also ensure that they address your needs. Also, our expertise is unmatched as our teams are highly experienced and committed to providing 100% satisfaction. To achieve that, before installing or bringing any furniture to your office, we perform a physical assessment of your workspace to make sure that every Singapore office furnishing we bring fits in and enhance the functionality and elegance of your workplace.
Green Initiatives
We are committed to sustainability. Many of our furniture options are environmentally friendly, crafted from recycled materials, and designed with energy-efficient production methods.
Quality Assurance
Our dedication to quality is uncompromising. We source our furniture from reputable manufacturers known for their craftsmanship and durability, ensuring that every item you purchase from us is built to last.
Ergonomic Excellence
Comfort and productivity go hand in hand. Our ergonomic office chairs and accessories support employees' well-being, reduce fatigue, and boost their performance.
Customization
Tailor your office furniture to match your brand's aesthetics. We offer customization options, from choosing fabrics and finishes to creating bespoke pieces that reflect your vision.
Competitive Pricing
Quality should be affordable. Our competitive pricing guarantees you the best value for your investment without compromising quality.
Comprehensive Range of Products
We offer an extensive selection of office furniture, including ergonomic chairs, sleek desks, contemporary workstations, and space-saving storage solutions. Whether you're revamping your existing office or starting from scratch, we have the perfect pieces to suit your needs.
Timely Delivery
We understand the importance of timelines in business. Rest assured, your orders will be delivered promptly to ensure minimal disruption to your operations.
Client Satisfaction
Your satisfaction is of utmost importance. We strive to exceed your expectations in every service aspect, from product quality to customer support.
Long-Term Partnerships
We aim to be your trusted partner for all your office furniture needs today and in the future. Our commitment to building lasting relationships means we'll support your evolving needs.
Professional Consultation
Need help figuring out where to start? Our team of experienced professionals is here to guide you through the process. From space planning to product selection, we offer expert consultation to help you create a functional and stylish workspace.
What Is Office Furniture?
Office furniture encompasses all the items and pieces of equipment that make up your office space. This includes chairs, desks, tables, cabinets, shelves, and more. Office furniture serves several essential functions, such as providing comfortable workstations for your employees, enhancing the overall decor, and contributing to the organization of your office. The right office furniture can boost productivity and create a conducive work environment.
EXPANSIVE RANGE OF OFFICE FURNITURE FOR MODERN WORKSPACES
Discover an impressive array of office furniture essentials at OFC's online store. Our collection encompasses a diverse selection of workstations, desks, conference tables, storage cabinets, office chairs, partitions, and carpet flooring, each designed to elevate your workspace environment. Crafted with meticulous attention to detail and using premium materials, our furniture pieces seamlessly blend style and functionality to enhance any office space. From sleek stainless steel tables to contemporary office furnishings, our lineup reflects superior craftsmanship and timeless allure.
TAILOR-MADE OFFICE DESIGN SOLUTIONS
At OFC furniture, we specialize in crafting bespoke office system furniture tailored to your specific requirements. Our expert consultancy team is dedicated to conceptualizing functional layouts that not only enhance the aesthetic appeal but also optimize your workspace efficiency. With offerings in CAD and virtual 3D designs, we provide a visual representation of our creative vision, ensuring alignment with your expectations. Committed to professionalism and exceptional customer service, our team goes above and beyond to ensure your complete satisfaction with our space planning consultancy service.
PREMIUM QUALITY ASSURANCE FOR FEATURED PRODUCTS
Every piece of open concept furniture and office furnishing in our selection bears the distinguished OFC stamp of approval. Our designs undergo rigorous quality assurance measures before being listed, guaranteeing excellence and reliability in every product.
How to Choose the Right Office Furniture?
Selecting the appropriate office furniture for your workspace is a crucial decision. Here are some key factors to consider:
Comfort: Your employees will spend long hours at their desks. Ergonomically designed chairs and desks can help reduce fatigue and improve work performance.
Functionality: Choose furniture that meets the specific needs of your office. Consider storage solutions, meeting spaces, and workstations.
Aesthetics: Office furniture should reflect your brand and create a professional, inviting atmosphere. Customize the design to match your office's decor and branding.
Durability: Quality matters. Durable furniture will save you money in the long run, as it won't need to be replaced as often.
Space Efficiency: Optimize your office layout to maximize space usage. Modular and space-saving furniture can help you make the most of your available space.
Budget: Set a budget and stick to it. We offer cost-effective solutions to ensure you get the best value for your investment.
2023 and 2024 Office Furniture Trends
As we enter 2023 and look ahead to 2024, office furniture trends continue to evolve. Here are some of the latest trends you can expect:
Flexible Workspaces: The hybrid work model is here to stay, and office furniture is adapting to support it. Look for versatile, adaptable furniture that accommodates both in-office and remote work.
Eco-Friendly Designs: Sustainability is a growing concern. Eco-friendly office furniture made from recycled or sustainable materials is gaining popularity.
Minimalist Designs: Clean lines and minimalist aesthetics are in vogue. Simple, uncluttered designs create a modern and professional look.
Biophilic Design: Incorporating nature into office spaces is proven to boost employee well-being. Expect to see office furniture designs that integrate natural elements, like wood and plants.
Tech Integration: With the increasing reliance on technology, office furniture is being designed to seamlessly integrate devices and charging solutions.